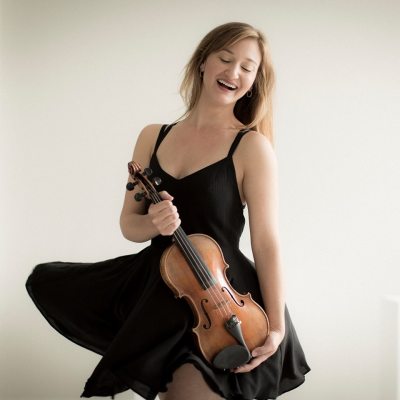 The main thing that comes to mind is comfort; it's just so comfortable to play with, and I've never had a shoulder rest that molded to my shoulder so well.  I love the amazing material the fitted surface is made out of.  I think the biggest comfort difference that I noticed recently was when I played this concert which I do annually that's very taxing physically because there are almost no breaks in the violin part.  I usually have to get a massage right afterwards because I'm hurting and exhausted, but this year I didn't even have to do that because I had no pain at all!

I feel that I can sink into the string more when I'm playing without needing to use my shoulder to adjust, which makes string crossings and tone production quicker and easier.  I don't need to raise my shoulder to go into higher positions either; the customized shoulder rest just enables this incredible ease of playing and alleviated strain on my left shoulder, which was my biggest source of discomfort.

-Sarah Franklin, violinist and teacher

The Librio customized rest provides me with a feeling of security and dynamic interaction with my instrument, and I think that is even more important than its comfort.  The ease with which the instrument remains secure on my shoulder without additional pressure or undue force is huge.  I've been studying Alexander Technique for a number of years, and the Librion custom fitting enables me to adapt to that core concept concept of balancing the head on the spinal column.  I've recommended  the Librio service to my students and colleagues!​


- Michael Emery, Soloist, Concertmaster of Glens Falls Symphony, Senior Artist In Residence at Skidmore College
Frankly I've waited a lifetime for this solution.  I've never had a shoulder rest that had offered the height and contour that I needed to play my best.  It's given me the freedom of movement that I need to produce my best sound and to enjoy the most agility on the fingerboard.
-Alyson Slack, violinist Schenectady Symphony Orchestra
Thank you Librio, for the very comfortable custom fitted shoulder rest.  I'm very happy with it.  It helps a great deal to free up the left hand for more relaxed shifting and vibrato.  I highly recommend the Librio customized shoulder rest!

-Paula Shaw, violinist/violist with Albany Symphony, violin teacher

I use my Librio customized rest exclusively, and will never go back to my old shoulder rest!  The fitting session showed me not only what I would be getting and how it would benefit, but more importantly showed me what my other shoulder rest had been lacking.  I've been using the Librio customized rest now for over a year, and I love how reliable it is, the comfort is perfect, and doesn't dampen the sound of the instrument.  I recommend it to everyone!  Once you have a custom fitted shoulder rest, you will never use anything else.

-Marla Bracco, violinist with Glens Falls Symphony, Suzuki teacher
I've always found shoulder rests to be uncomfortable and awkward, and I always thought the problem was just that I was holding the violin the wrong way. I tried all sorts of different shoulder rests, sponges, inflatables, etc., while I was in conservatory but I just could never find the right setup.  Having already spent around 25 years studying the violin, I resigned myself to thinking that my shoulder was simply too small or was the wrong shape and that I would have to deal with it forever. 
Getting fitted for my Librio customized shoulder rest was an unexpectedly fun and easy process, and I had plenty of opportunity for feedback and adjustments to make it exactly what I wanted. It was amazingly refreshing to be able to set up the way I liked and have the shoulder rest accommodate me rather than the other way around. 
Besides achieving what I previously believed was the impossible feat of actually being comfortable, I've noticed that my customized shoulder rest has also made a substantial improvement to my playing and sound. Switching to the new setup almost immediately freed up tension in my left hand and shoulder that I wasn't even aware of. My vibrato is now much more free and shifting has become noticeably easier all along the fingerboard. It has greatly reduced the time I need to put in to get new music up to performance level and has improved my solo sound.
I'm so happy with how the final result turned out and I haven't touched another shoulder rest since! I couldn't this service more. It has helped me fix things about my playing that thousands of hours of practice never did. 

-​Heather Chan, violinist with Schenectady Symphony Orchestra